Stress Busters
Musical madman Takapaachi has his fingers on the pulse of the fun side of music.
What do you get when you cross a trumpet full of bad jokes with a music-puppetician?
Whatever it is, it's good for what ails ya.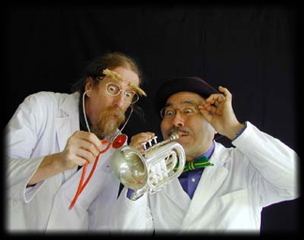 Tomochika
She'a a popular comedienne (and vocalist) from the Kansai area.
After doing a silly little skit, Mazja played a duet with her in this episode of her
search for the perfect back-up band on the weekly channel 4 TV show "Utawara"
Mr. Masashi Okuda
Mime, physical theater, and soap bubble wizard, he has added his unique charm to many a show.
This photo was taken during a charity tour of Myanmar (Burma) refugee schools sponsored by the
Korean Family Concert series.